Hello friends!
Story Architect 0.5.2 is up and running today and it's bringing advanced features for managing access to cloud projects, as well as the ability to use an AI assistant in all the text modules of the app.
Partial Access
You can now share access not only to the entire projects, but also to just some of the documents inside.
How it works:
An additional button "Configure Access" appeared in the section of project co-authors management (or you can right click on one of the co-authors who have already been granted access and select a similar item in the context menu).
You will see a dialog window where you can set which sections or documents your co-author will have access to and specify the level of access.
If necessary, the co-author can always be given full access to the project, then he/ or she can work with all the documents that are already in the project, as well as see all new documents created in the project as you keep on working on it.
The "Grant Access" button will apply the specified access configuration and send notification to the co-author (if he or she has not been previously connected to the project).
When the co-authors open the project, they see only the documents they now have access to.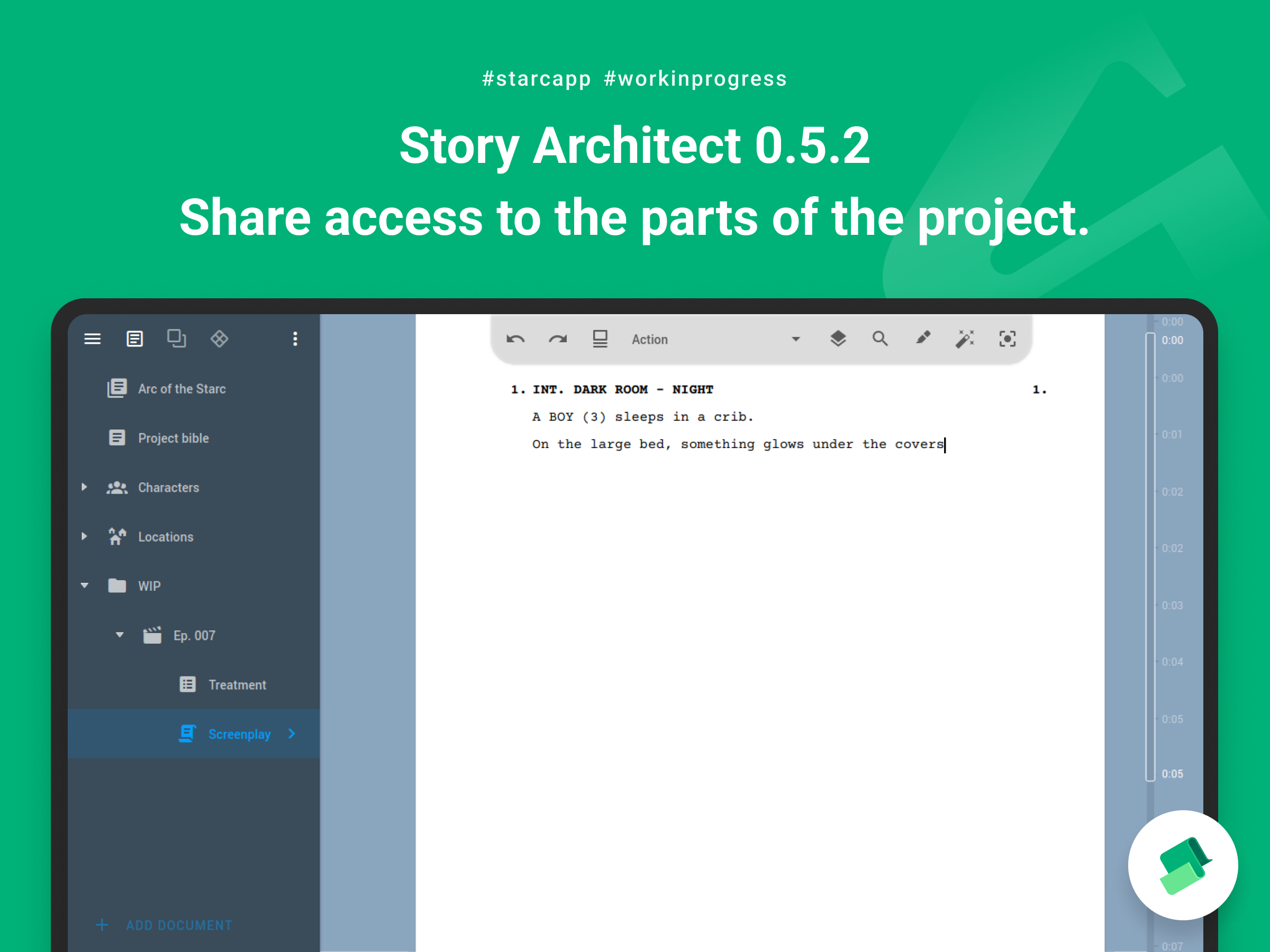 The next step in the collaboration development will be the management of the co-authors writing room. Team management in its full meaning.
Intelligent Assistant
Yes! As promised in the last release, we've added an AI assistant to all text modules. Now it can help you no matter what project you're working on, whether it's a comic, a play or just text notes.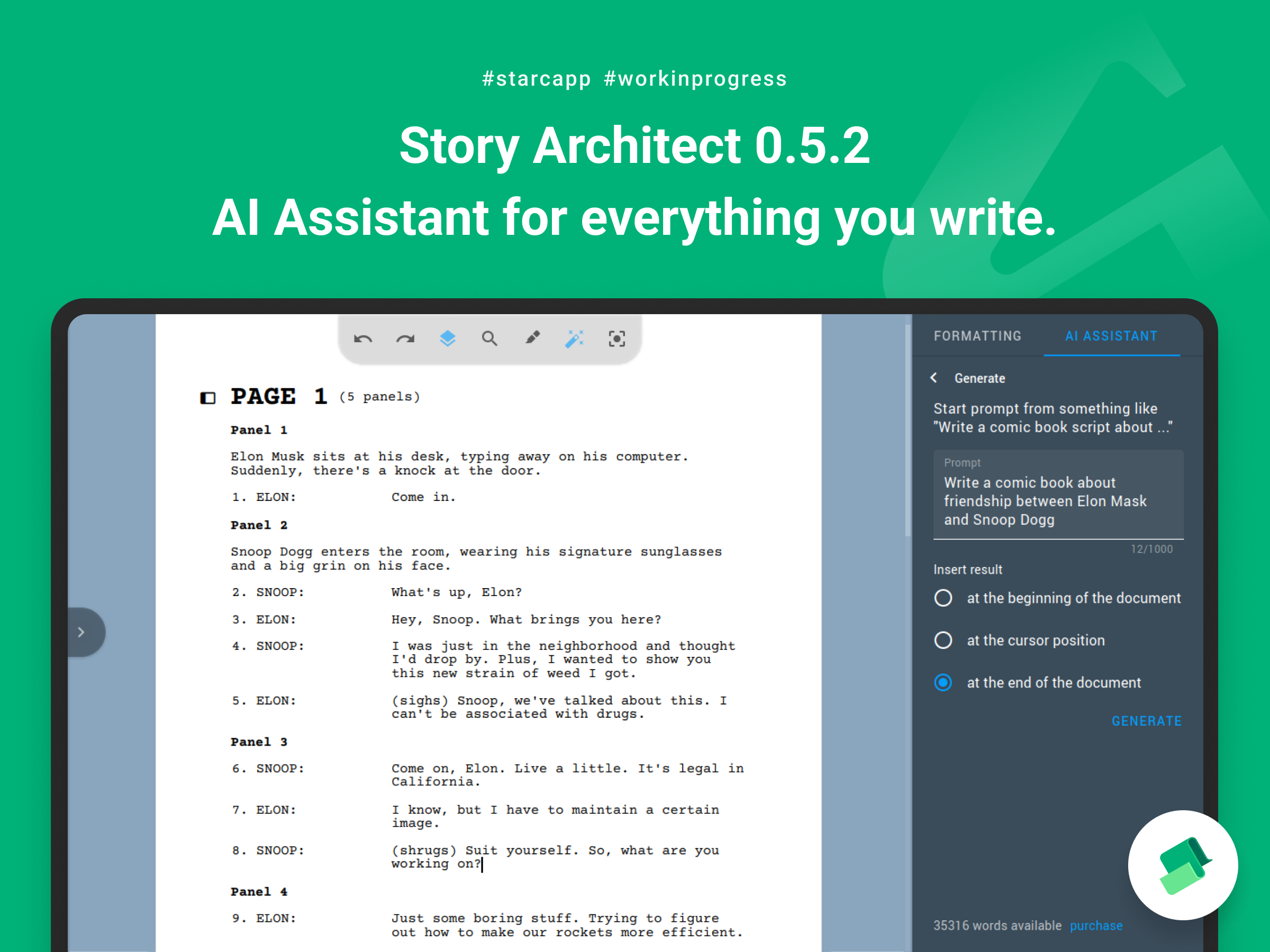 We'll be expanding the influence of the AI assistant further. For example, we really liked the idea suggested by one of our users: why not to ask the assistant to generate a detailed character profile? The ability to generate a photo based on the data from the questionnaire will come right after.
If you have more ideas how to develop this direction, welcome to discussions in our social networks or in the feedback form.
Other improvements
The 0.5.2 release received several other smaller improvements:
the option to use smart quotes now takes single quotes into account as well;
the option "show hints for characters and locations which are important or present in the current script" is now enabled by default;
typewriter scroll mode now work by pressing any key on the keyboard, not only when typing;
an ability to quit the application using Ctrl+Q for Linux (Command+Q for macOS) is added;
an issue with displaying a writer's stats separated by different devices is fixed;
a lot of problems with availability of controls in read-only/commenting mode is fixed;
an issue with resetting scene parameters when switching between projects is fixed;
an issue with importing a script with multiple acts from KIT Scenarist projects is fixed;
an issue with displaying all the tags of cards is fixed;
an issue with the width of the drop-down list of tags in the scene parameters is fixed;
and other small fixes of the application's appearance and typos are done.
Social networks
Another hot topic for us during these past two weeks was social media content.
We really want to grow the community and be useful/interesting to you even outside of your work environment, as well as to engage you in the process of creating the app and sharing experiences with other authors. That's why we're doing experiments with content.
If you have something to say about this, by all means write to us. Let's discuss it!
That's all :)
Just a reminder that we've re-launched the StarcAI promo code, which activates 5 credits for working with the intelligent assistant and will be available until May 31. So if you haven't activated it before, don't miss the moment, activate it now!
Hugs to everyone! We're looking forward to your letters, friends, and see you soon!